Corporate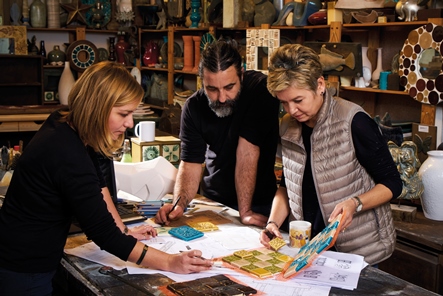 About Us
Step Mimarlık, founded by Architect Ayşe Elçi in 1992, has been producing decorative ceramic works in Izmir since 1999 with the brand of Step Collection. Step Collection combines ceramic arts – a heritage dating back to thousand years ago – with today's modern approaches to create projects with original design and high-quality manufacturing.
In 2016, Step Mimarlık has brought together ceramics with wood in its 'stil 44' products, and started to design original products in the furniture sector. In its collection, where the principle is to make ceramic arts available for everyone, the company designs a broad array of products, including home accessories, handmade ceramic floor tiles, washbasins and wall tiles, and produces for both domestic and international markets with its experienced team.
Our Products
We offer original designs and handmade products for decoration and construction sectors with our collection that we renew every year.
Our product range enhances with decoration, gift and cash&carry options that respond to all your home and hotel decor needs.
Our handmade products are designed and manufactured meticulously by a successful team. Each stage of the process goes through quality control procedures. Different packaging and labeling system is used for each type of product.
Our collection is sold in leading home decor stores, smaller stores that sell home accessories, large furniture stores, and online.
Handmade ceramic floor tiles, washbasins and wall tiles offer perfect solutions for HoReCa customers, construction companies, architects, interior designers and house decorators.
Advantages We Offer!
In addition to our collection, under the same roof, we offer a wide range of design products that add identity to your interior spaces. We also offer the flexibility to design and manufacture customized products upon demand.
Step Mimarlık İnş. Dek. Hiz. San ve Tic.Ltd.Şti.
Atatürk Organize Sanayi Bölgesi
10026 sok.No.15
Çiğli – İzmir -TURKEY
+90 232 328 34 77 pbx